Ruby Morgan has been "alive" for eight days now, and I'm still totally unable to sit still. This is so exciting!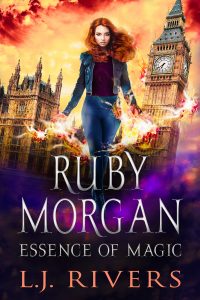 From Amazon's statistics, we have already seen that there are quite a few who have begun reading our story of the young Fae and her friends—and enemies—in London. As the following books, Sentries of Camelot and Virtues of Purity, are released (3rd of February and 3rd of March, respectively) we hope to have established Ruby Morgan as an interesting young woman to follow.
And even though we really love our heroine, we do put her through some horrible ordeals. She does have some powers herself, though, and very affectionate and loyal friends, so we have faith in her ability to handle the problems.
On the 3rd of January, we launched the first book, Essence of Magic. We were also invited to do a so-called "author takeover" of a Fantasy group on Facebook, which was a great and fun experience. During the hour we were in charge, we talked with quite a few people, and many of them tried our little quiz, where they could find out which Magical being from the Ruby Morgan universe they were. As it stands, the Elementalists (like me), the Fae (like L) and the Shifters dominate the results, but there were some Sorceresses in there, too.
Click here to take the test to find your Magical alter ego.
During the last week, we have also edited the manuscript for Harvester Academy, a prequel novel which will be released on the 3rd of April. In it, you will get to know Dennis Rivers, and how he went from being a sixteen-year old, street-savvy kid in Liverpool to a recruit at the top secret Harvester Academy, searching to avenge his father's death. A death that came at the hands of a Magical.
And we've begun writing Tears of Pestilence, the fourth book in the main series about Ruby Morgan.
But before we get to the 3rd of May, and the release of ToP (we tend to use the abbreviations between us, L and I), we look forward to the 3rd of February, and the release of Sentries of Camelot.
As I sit and muse about the week that has passed, Saturday has turned into Sunday, and the weather outside my window is very typical of the region. I (J) live in Volda, on the west coast of Norway. L resides in Halden, some 400 miles southeast. So far, this winter has been mild and wet, though L seems to be getting some sun tomorrow.
For now, as the clock has passed 1.15 am. here in Volda, Norway, I'm going to call it a day. Liverpool beat Tottenham in a tight game, so we're still on our way to the first league title in 30 years. I know Ruby shares my excitement!
Until next time,
J